We are moved by the love that families show their parents as they help them in their final years. Often the children care for their parents as their parents cared for them and others.
This was the case with our client, Dr. Paul Mobley. In his final years, Dr. Paul lived with his daughter, Margaret, and son-in-law, David. They spent a great deal of time caring for him… physically and emotionally, doing whatever was needed.  We fell in love with Dr. Paul and his gentle ways, quick with a smile and to give a hug.
Margaret shared with us a beautiful photo of her dad taken years ago when he was caring for his own mom.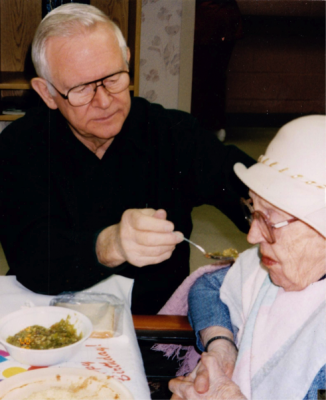 Dr. Paul grew up on a farm in Arkansas. In high school he worked at the local drugstore, which piqued his interest in the medical field. He earned a BS in Pharmacy and enlisted in the Navy, serving in the Pacific during World War II.
Upon discharge he enrolled in the University of Tennessee College of Medicine. He completed an internship at the Naval Hospital in Bremerton, Washington, followed by a residency at the Kennedy Veterans Hospital in Memphis.
In 1953, Dr. Paul opened a family practice in Paris, Tennessee. His greatest satisfaction came from caring for his patients and delivering babies… 2,038 to be exact (must be a record somewhere!) Dr. Paul died at home surrounded by his family in January at the age of 92.
Dr. Paul devoted his life to caring for those around him.  It was fitting that in his final years he was cared for by those who loved him.